About Us
Wide open beaches, meandering coastal paths, bustling harbour towns, quiet seaside villages – if you don't know the coastline of England, now's the time to explore!
England's Coast is an exciting new tourism initiative offering you a wealth of holiday experiences. Watch the videos, create your ideal itinerary and book direct. Get away from the busy tourist routes and off the beaten track to explore the stunning landscapes and rich heritage of the English coast.
Here you'll find six outstanding stretches of coastline, from Northumberland in the north east, across Yorkshire and the east coast, travelling along the south east, the Jurassic Coast and along to Devon and Cornwall in the south west – each shoreline features unique natural landscapes, activities and events for a perfect and unique coastal trip.
Our stunning new video footage highlights the very best of the coast's beauty. Choose your favourite stretch of coastline and create your ideal getaway – book a cosy B&B, boutique hotel or stay under the stars at a seaside camp or caravan site. Tuck into the crispiest fish 'n' chips or splurge at a superb seafood restaurant. Hike along cliff-tops, tee-off at a links golf course, discover a new water sport or get up-close-and-personal seal-watching – be as relaxed or active as you choose!

Not sure where to go? Take a look at our sample itineraries here, featuring the top must-sees along the shoreline – castles, historic houses, spectacular gardens and national parks, bustling harbour towns and secluded bays – simply click and book.
With thanks to the National Trust and English Heritage for their help in producing the videos shown on this website.

England's Coast is delivered by the National Coastal Tourism Academy with the following partners:
LEAD PARTNER

P&O Ferries operates more than 30,000 sailings a year across the English Channel, the North Sea and Irish Sea. England's south and east coasts are easily accessed from the Rotterdam and Zeebrugge to Hull routes and in France from Calais to Dover.
P&O offers a wide choice of crossings from Rotterdam to Hull. This 12-hour crossing allows you to relax on-board to arrive refreshed to explore the east coast of England. While sailing, enjoy a hot meal or gourmet dinner surrounded by panoramic sea-views.
The overnight ferry service from Zeebrugge to Hull allows you to sleep in a comfortable cabin, enjoy shopping, dining and entertainment on-board before arriving in one of England's historic cities. Explore Hull's food market, old town and museum quarter before visiting the beauty of the coast.
From Calais, P&O offers up to 23 crossing a day taking just 90 minutes. Flexible tickets are available and just about every mode of transport is welcome, including motorists, cyclists, pedestrians and pets! Dover is the perfect port to start exploring the south coast of England.
OUR PARTNERS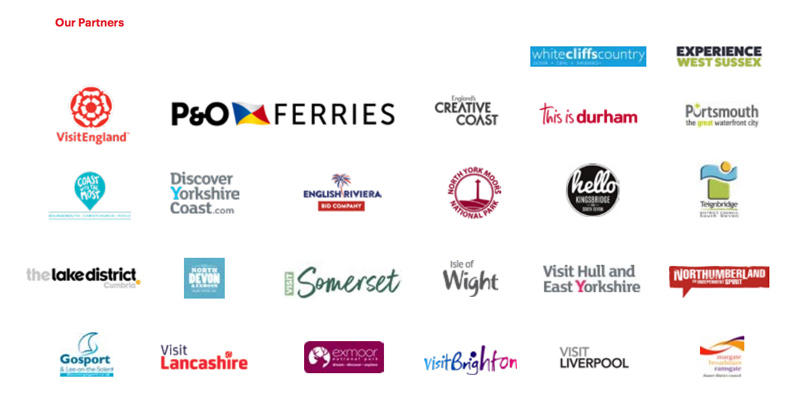 For partnership opportunities, click here.